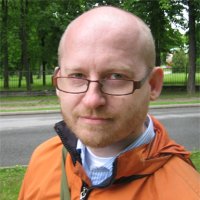 I am Mikko Piippo. I live and work in Helsinki, Finland.
First of all, thank you for your interest!
If you are interested in web analytics, improving online performance, and online marketing in general you should find here a lot of interesting material.
I started this blog in 2016 as my old blog, written in Finnish only, was incomprehensible for 90 % of my social media audience.  Because of this, I decided to start a new blog for my international audience.
You'll probably soon notice that I am not a native English speaker. I hope you'll forgive me my occasional mistakes in grammar. After all, I learned to speak English only learning after Finnish, German and Swedish.
 * * *
In September 2016, I launched Hopkins Inc with a few friends. Hopkins is a digital marketing and analytics agency.
Most of my work is analytics related. My weeks are filled with KPI workshops, writing analytics implementation guides, setting up Analytics accounts and  hacking the scripts in Google Tag Manager containers.
If someone had told me a decade ago what I'm doing now, I would not have believed a word.  10 years ago I shared an office with a couple of PhD's students at the University of Helsinki. I was writing my thesis in medieval history.
I did not even have an idea about what web analytics means. I had never even heard about search engine optimization.
I spent my days and years reading books about intellectual debates of Franciscan Friars. Sometimes I deciphered  documents and manuscripts, written in archaic Swedish, German or  Latin.
I travelled to other countries searching for unpublished historical documents with information about life in medieval Finland.
What a way of life!
But it all changed. After a few years I found myself completely stuck with my research.
It was not fun anymore, and I did not know anyone sharing my scholarly interests. Suddenly my academic future did not seem bright at all.
This was the beginning of my digital transformation.
I decided to leave the academic world, stopped teaching and researching and tried to find "a real job". It was more difficult than what I expected, so I went to a business school to study economics, finance, mathematics and statistics.
 * * *
At the same time, I worked as free lance copywriter in order to pay my bills.
It was a natural first step in the business world as I had already written a book for a trade organization.
But I wanted more than "just" to write newsletters and web site copy.
When I heard about SEO, I started to read SEO blogs. I watched Rand Fishkin's Whiteboard Friday videos so that I would find more readers for my content.
Soon I understood that I need to understand the way people read and consume my content. I learned about Google Analytics and started to read Avinash Kaushik's  Occam's Razor.
I also relearned coding.
In the 1980s I wrote BASIC and assembler code for my C-64, so learning some elementary php and javascript was not too difficult.
Even so, I don't dream of coding anything serious.
I can hack together code for doing statistical analysis or to be used in a Google Tag Manager container but I would much prefer a more competent coder to write the code instead.
 * * *
In 2011 something unexpected happened.
Telephone rang. It was a friend of mine from the business school. He asked me if he can give my telephone number to the COO of a digital marketing agency looking for new consultants.
I said yes.
A month later I started my new career as digital marketer. Soon I managed SEO and SEM campaigns for some of the agency's biggest key clients.
During the last five years I have learned that many of the skills and some of the knowledge I acquired in the business school can be used for understanding customer behavior and marketing.
I learn something new every day. I learn new skills, new ways to look at the data, something about how companies function in different markets or something about their clients.
This is why my work as analytics consultant in a marketing agency is so fascinating.
It is as rewarding intellectually as working at the University ever was. And it is much more fun!
Mikko Piippo
Are you working in the online marketing industry? Please join my email list for more actionable Google Analytics tips!