Finding fresh ideas for blog posts or content marketing can be a challenge. In this blog post, you'll learn how to use Google Analytics for creating new ideas for blog post topics.
Is it difficult for you to find an idea for your next blog post?
For me, it certainly is.
For a long time, I struggled with my blogs. I knew I had to publish something but I did not have a clue about my next topic.
When I started to feed my imagination with data things started to change.
Suddenly, I had huge repositories of ideas available for me.
Data is not your enemy. It is your best friend.
1. Internal site search reports reveal user expectations
Almost every website provides users with a site search functionality. You should track its use in Google Analytics.
The site search queries are a real goldmine. Every search query helps us to understand users' wants, needs and expectations better.
These are topics your users expect to find content on your site!
If your website does not have a search functionality, you should add it as soon as possible.
Next, you need to activate site search tracking in the view settings. Do this in Admin >View > View settings.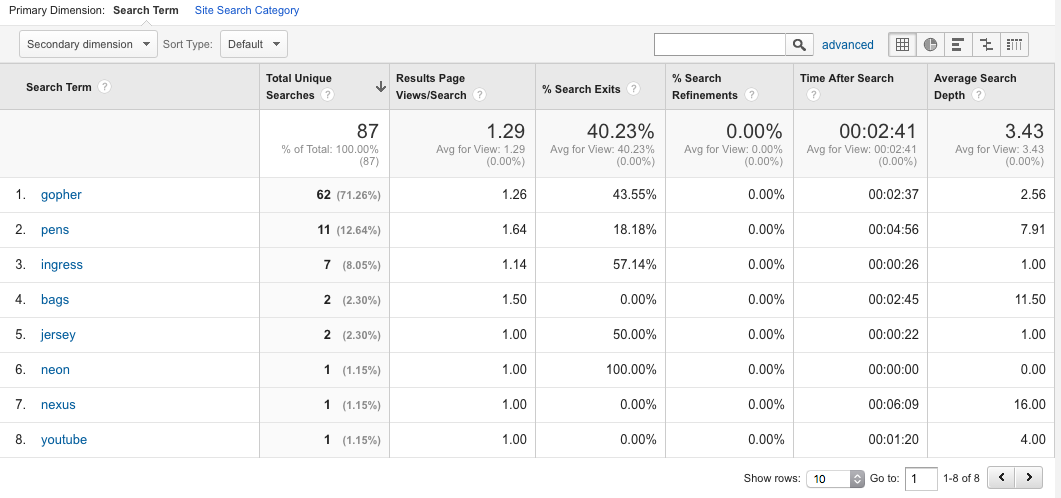 2. Google search query reports reveal searcher intent
The search queries your visitors use in Google are an equally rich source of content ideas.
A couple of years ago, Google started to promote the https version of its search engine. Since then, we have lost most of the good old organic keyword we loved to use for SEO purposes.
Fortunately, we find most of organic keyword data in Google Search Console's reports.
It is also easy to import the data from Search Console to Google Analytics. After this, you'll find search query data in Google Analytics under Acquisition > Search console.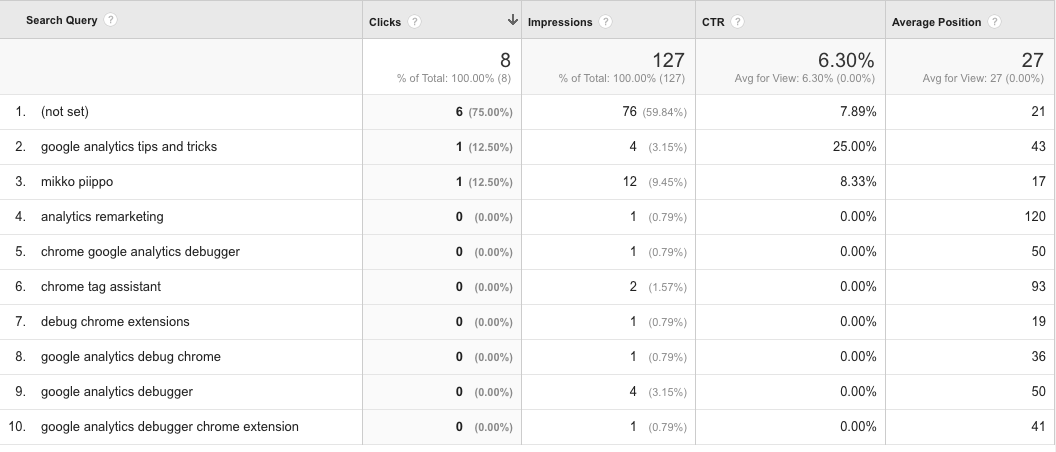 There are many ways to use this data as a source for content marketing ideas:
Look for search queries with high number of impressions and low ranking. These can indicate gaps in your content. It is often a good idea to publish more and better content about these topics.
Look for users' questions and use them as a starting point for your next blog post.
Long tail queries are good indicators of user intent.
Look for anything unusual. Unusual search queries can give ideas for new topics or new ways to approach old topics.
You should remember that the Search Console reports include only Google searches. For some markets, this might not be enough.
3. Identify your top performing pages to replicate your successes
It is a good idea to look at your best performing pages and blog posts. These give you an idea about what kind of content does well on your site.
You can measure performance in many ways. Traffic, engagement and conversions are all popular ways to understand performance.
For content marketing, conversions are not always the best way to identify good performance. At least, you should use a multichannel approach when measuring performance by conversions.
There are many criteria for identifying well performing content. You can, for example, use:
page value
bounce rate (remember the weighted sort!)
page views (unique page views, referral traffic, organic traffic, social media traffic).
I especially like to use links and referral traffic as criterion. Links to your content are valuable for two reasons. First, they are a good source of traffic. Second, they help your site to rank better in the organic search engine results.
Because of this, you should also have a look at the pages or blog posts bringing you most referral traffic.
Can you repeat the success? Is there a pattern behind your most linked pages? Are the topics or blog post titles similar?
4. Look for evergreen content – and autumn leaves
Content marketing should be a long term investment. Evergreen content can bring your website visitors year after year.
Because of this, you should identify content performing well from year to year.
For this, you need to segment your blog posts and other content based on the age of content.
If you have included the year or the date of publication in the path, you can filter the content based on the year. If you don't use the date in URL, you can send the date as custom dimension to Google Analytics.
You might also find content that used to perform well but has lost its traffic.
These pages are also good sources of ideas:
Can you update and republish the content?
In some cases, you should just archive the content.
5. Use demographic and interest reports for understanding your audience
Finally, you can use Google Analytics for building data driven personas for your content.
After all, you need to write for your own audience.
Using Google Analytics's demographic reports give you some very useful data about your audience.
For example:
Is your blog read by men or women? How old your readers are? These simple demographics can surprise you.
What about the geographics of your audience? Is your content consumed in one country or all around the world?
 Have a look at interest reports, too. Do you notice any surprising interests shared by many readers?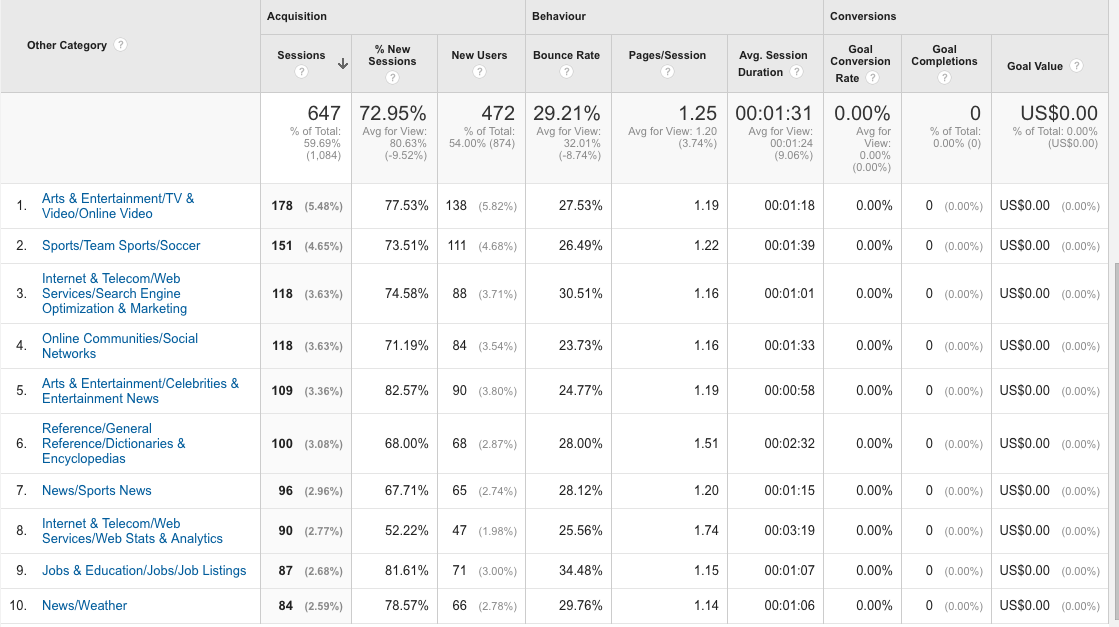 Data is content marketer's best friend
Why don't you have a look at your analytics data right now?
Have a look at the search queries, demographic reports and best performing pages. How many new ideas did you find?